Acknowledgements
Canadian Geographic Education
The Royal Canadian Geographical Society is one of the largest non-profit educational organizations in Canada. Its goal is to make Canada better known to Canadians and the world.
The standing educational committee of the Society is Canadian Geographic (Can Geo) Education, a network of more than 23,000 K-12 educators from coast to coast to coast.
The Canadian Geographic Challenge is the longest-running program of Can Geo Education. It is organized by a dedicated committee of teacher volunteers from across the country. If you are interested in getting involved with the committee, please contact us at [email protected].
The Canadian Geographic Challenge is a key component of Can Geo Education's suite of educational resources. Please take the time to look at our other resources to see what tools you can bring into your class or school at cangeoeducation.ca.
Interested in supporting the Canadian Geographic Challenge? Click here to donate to the RCGS.
Land Acknowledgement:
Canadian Geographic Education, The RCGS, and Canadian Geographic acknowledge that our offices are located on the unceded territory of the Algonquin Peoples who have been the guardians of, and in relationship with, these lands for thousands of years. We further acknowledge and recognize that our work reaches across all of the distinct First Nations territories, Métis Homelands and Inuit Nunangat, and for this we are grateful.
Remembering Alex Trebek and his support for the Canadian Geographic Challenge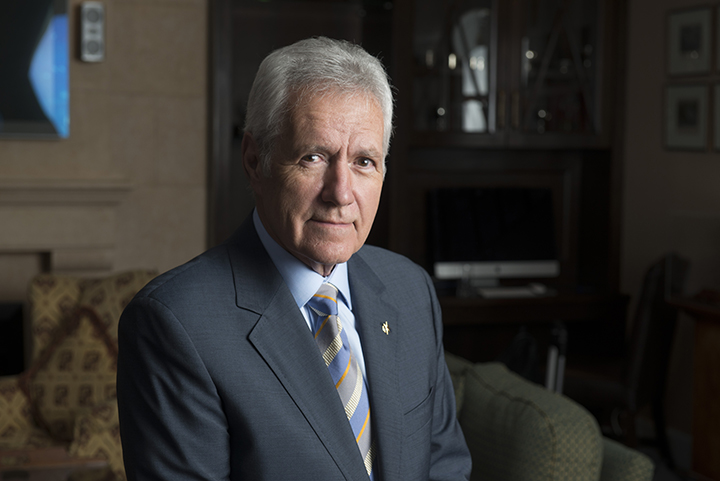 Alex Trebek is best known for hosting Jeopardy!, but it is his work in championing geographic knowledge and education that resonates so strongly with Canadians and will have a lasting legacy for many years to come.
Trebek served as the Honorary President of The Royal Canadian Geographical Society since May 2016, but even before that he had been a key supporter of the Society. Trebek hosted several of the annual Canadian Geographic Challenge National Finals, and, over the years, he also provided financial support through the Trebek Family Foundation to ensure that the National Final could continue to be held before a live audience.
Even during his battle with cancer, Trebek was generous with his time. He attended the 25th Anniversary of the Canadian Geographic Challenge at 50 Sussex, home of geography education in Canada and the RCGS headquarters, where he spoke with past Challenge Champions, some of whom he had watched compete at international events. 
"We live in a period now of crisis for our planet, and it strikes me that geography is even more important now than it has ever been," Trebek noted during his remarks at the kickoff celebration of the 25th Challenge.
In recognition of his lifetime dedication to geographic education, the RCGS renamed its Geographic Literacy Award the Alex Trebek Medal for Geographic Literacy and made Trebek the first recipient of the newly renamed honour. 
Read more about Trebek's life and his involvement with The Royal Canadian Geographical Society.